Re-grow Your Edges and Bald Spots With Anoint Oil TODAY!


Nourishes The Scalp to promote hair growth

Relieves itchy scalp caused by dryness

light and easily absorbed

100% Natural With No Harmful Chemicals


⭐⭐⭐⭐⭐
five-star reviews From Satisfied Customers


25% OFF Black FRiDAY SALE NOW ON!

Pick up for free from our hub in Lekki Phase 1, Lagos or we can deliver to anywhere in Nigeria for a fee

Bank Transfer Payment Accepted
We accept payment by Bank Transfer in Nigeria. Follow the instructions after your order is submitted

High Quality, Plant Based UK Ingredients

Our special formulation includes Organic Avacado Oil, Rosemary Essential Oil and Basil Essential Oil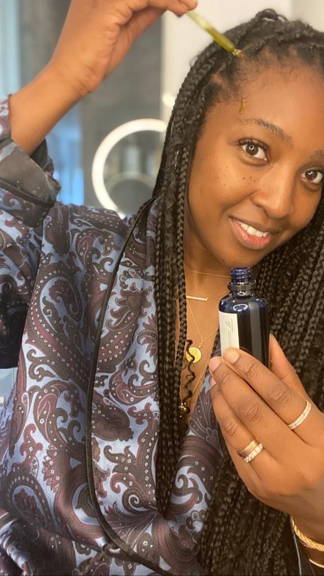 WHY USE ANOINT HAIR GROWTH OIL !
WHY USE ANOINT HAIR GROWTH Oil !
Hairstyles like Braids, Weaves and Cornrows can put a strain on your hair follicles over time. The hair around the edge of your hairline is particularly fine and fragile, so is more at risk of thinning.

Anoint is rich in vitamin D and antioxidants that help increase blood flow and unclog blocked follicles

Anoint includes essential oils that will boost hair growth and thickness by stimulating your hair follicles

Anoint is simple to use. Just massage a few drops into scalp for 5-10 mins, concentrating on any problem areas

Anoint only needs to be used 2-3 times a week to see results in 4-6 weeks
25% OFF BLACK FRIDAY SALE NOW ON!
Full Bloom Beauty is Helping Thousands of customers transform their hair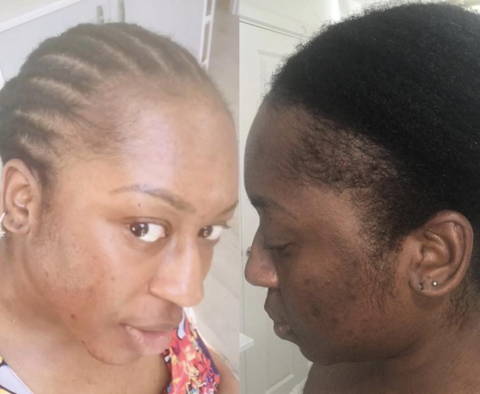 Truly Anointed
"People noticed the growth of my edges within a few weeks of using it so I knew I was not being delusional!"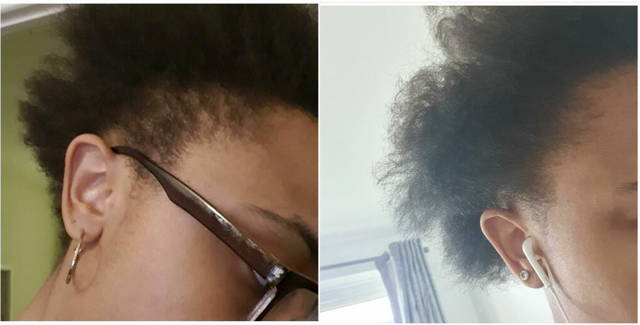 Fantastic product!
"This had done wonders for my hair its almost miraculous! I went from have virtually no hair on my hairline to a thick and long hairline, almost to the same length as the rest of my hair. Would most certainly recommend!"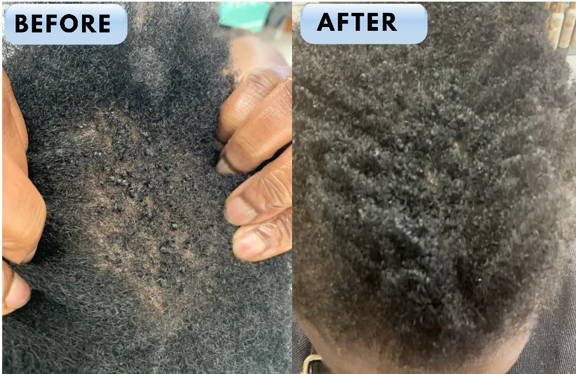 It works
"In May 2021, I lost a section of my hair (Before picture). Didn't know what caused it, so decided to stop using all hair products. I started using Anoint in June and by October my hair has grown back (After picture)."
Hair Dresser Amazed By Hair Growth Results
25% OFF BLACK FRIDAY SALE NOW ON!
- For best results heat the bottle in a bowl of warm water and shake well before use.
- Lovingly massage a few drops into scalp for 5-10 mins, concentrating on any problem areas.
- Use at least 2-3 times a week.
- Take before & after pictures and measure your hair to monitor your progress.
How long will it take to see results?
This depends on the severity of the issue but most people see results in 4-6 weeks when using Anoint consistently.
It's also important that you avoid the root cause of your issue so you can get the best results.
We are based in Kent, UK but have a distribution hub in Lagos Nigeria.
You can pay via Bank Transfer from Nigeria. Please follow the instructions on the order confirmation page to pay and include your order ID as the reason. Your order will only be processed after payment is received.

How and when can I get my order?
We have 2 options for orders to Nigeria.
You can choose to pickup for free from Lekki Phase 1, Lagos. We will contact you to share the collection address and agree a suitable date and time.
You can also choose to have your order delivered anywhere in Nigeria for a small delivery fee. Your delivery should arrive within a few days depending on your location.
Can I use Anoint with other Full Bloom Beauty products?

Absolutely. Full Bloom Beauty has a number of products for all your haircare needs and they all compliment each other. We will be making more products available in Nigeria soon :)
Are there any side effects?

Anoint is made of 100% natural ingredients and does not have any side effects.
However if you do experience any unexpected effects then stop using the oil immediately and contact us.